ART 2100

Description
The first of a new generation of Vertical Profiler weather radars, the ART 2100 Digital Weather Radar offers a vertical picture of a pilot-selected cross-section of the storm, offering the best view available to general aviation. The simple press of a button allows you to analyze a storm segment vertically, giving you the information you need to determine the scope of the storm. Also, you can examine the angle of the cell's leading edge to determine direction of movement, monitor the tops of cells to see how quickly a storm is building, and easily distinguish between ground and weather returns.

The system is fully stabilized to +/- 30° combined pitch and roll, and antenna stabilization keeps your screen clear of ground returns during moderate aircraft maneuvers. You can choose between two antennas, a 10-inch or 12-inch, to fit a wide variety of airframe applications. The ART 2100 uses intuitive colors (green, yellow, red, magenta), and six ranges (10 nm to 40 nm) to depict the weather intensity, creating a clear picture of the weather and making it easy for you to avoid danger. The horizontal scan provides an angle of 100°; the vertical scan an angle of 60°. Using Sensitivity Time Logic, the system can correlate target distance with intensity, and its attenuation compensation reduces shadowing.

The system is fully EFIS compatible using ARINC 429 or ARINC 453 databus. It also features an MFD interface, fault annunciation, TILT readout on CRT and independent dual indicator operation.


AV80R

Description
The new Bendix/King AV8OR™ Handheld Multi-Function Display takes you to the airport, provides airborne weather (requires optional WxWorx XM receiver), guidance en route to your destination and even provides entertainment along the way. Each of these functions is easily accessible from AV8OR's Main Menu page. Designed by pilots, for pilots, the AV8OR's exceptional graphical user interface means that you'll spend less time entering data and more time piloting.

AV8OR is much more than a simple GPS. It's the perfect traveling companion with built-in music, picture and movie playing capabilities and dual Bluetooth® interfaces for alternate devices such as a cell phone, XM Weather Receiver, or alternate GPS Receiver. Whether for business or pleasure, the AV8OR delivers the information you want, when you want it – all in an easy to use and easy to read, affordable package.

AV8OR's innovative features push beyond traditional handheld GPS systems. AV8OR's large 4.3-inch diagonal, high brightness touch screen sets a new standard for portable systems. AV8OR's Touch-and-See feature lets you identify and get critical information for objects on the map with a simple tap on the screen. AV8OR's Touch-and-Drag feature makes panning the map a simple, one touch operation. AV8OR's Smart Profile view lets you plan ahead with a vertical profile view of terrain, airspaces and obstacles on your course.

AV8OR's built-in automotive navigation system provides both 2D and 3D navigation views to get you where you need to go in the most efficient way possible (Figure 1.5). With more than10 million Points of Interest (POI) in the U.S. and two million POIs in Canada included in the automotive database, you'll always be able to find the nearest shopping, restaurants, gas stations and more. And there's no need to keep downloading different regions, AV8OR's 4GB SD Card comes pre-loaded with both aviation and automotive databases for the entire U.S. and Canada or Europe. Additionally, AV8OR's built-in speaker provides text-to-voice prompts, so you won't have to take your eyes off the road.

In the box:
– GPS Base Display Unit - AV8OR
– 800mAh Battery
– 12V-28VDC adapters
– 120/220VAC adapters
– PC/USB cable
– Wired Remote GPS Antenna
– Aircraft Yoke Mount and Automotive Windshield
– Carrying bag
– Earphone
– CD User's Manual and Quick Reference User's guide

Non-Honeywell Options:
– WxWorx Portable XM Receiver

Features
* Small and sleek yet hosts a large 4.3-inch diagonal display
* External interface to access XM weather information and overlay data on flight plan
* Moving aviation map with vertical profile display of terrain
* Moving automotive map with text-to-speech voice prompts
* 20-channel SiRF III GPS receiver capable of receiving WAAS
* Satellite signals within 5 meters of accuracy
* Adjustable, high-brightness 150 fL LCD with 480 X 272 pixels
* Touch screen virtual keyboard for efficient user interface
* Powered by a new 400 MHz 2443 processor
* 4-Gigabyte data card containing databases for the entire US/Canada or the entire Europe region
* Spare room for personal files
* Easily connected to a home or work PC for quick downloads of files or new databases and uploads of flight plans
* Logged flights can be viewed from programs such as Google Earth
* Multi-use: Aviation - Auto - Entertainment
* MP3 Player, Movie Player, Electronic Books, Photo Viewer and more
* Multiple Bluetooth interfaces for: cell phones, XM Weather Receiver, Alternate GPS Receiver


KCS55A COLOR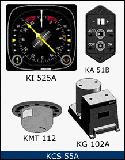 Description
The remote-mounted KCS 55A Compass System is an affordable automatic slaving compass system, automatically displaying precise aircraft magnetic heading without manual setting. With remote electric gyro, the KCS 55A system includes a KI 525A HSI, KG 102A Directional Gyro, KMT 112 Magnetic Slaving Transmitter, and a KA 51B Slaving Control Compensator unit with bootstrap heading synchro for use with a KI 229 RMI.

KFD-840

Description
Estimated availability 3rd Quarter, 2009
CALL US FOR MORE INFO! 1-866-539-4078

The KFD 840 is an affordable replacement option for all the analog instruments in the steam gauge "six pack." It can complement other systems or be used as a standalone Primary Flight Display for BendixKing's new line of avionics including the similarly styled
KSN 770 Next Generation GPSNAVCOMM. It is designed to integrate with common autopilots including the BendixKing KFC line and common Nav and GPS systems including all KSN and KLN products.


KMD-850

Description
At the heart of the Integrated Hazard Avoidance System (IHAS), the Bendix/King KMD 850 sets new standards in situational awareness, ease of operation and safety for General Aviation. The KMD 850 is both a display and a controller for the latest in the moving map technology, weather avoidance, traffic advisories and terrain warning. A unique-in-the-industry distributed processor architecture allows you to add processing power as you add functionality. Buy only the capability you need and upgrade at any time, in any order.

The KMD 850 has all the benefits of the KMD 550 display with a built-in interface for weather radar.

INTERFACES:
Weather --
Radar: ART 2000, ART 2100, RDS 81/82/84/86 including VP versions
Data link weather (FIS): KDR 510
L-3 Stormscope: WX-500, WX-1000E
Traffic --
Traffic Advisory Systems: KTA 870
Traffic Information Service: KT 73
TCAS: KTA 970, CAS 66A, CAS 67A TCAS II
L-3 Skywatch
Ryan 9900BX
Terrain --
EGPWS: KMH 880, KMH 980, KGP 560, KGP 860, Mark VI/VIII/XXI/XXII

KNI582

Description
The KNI 582 RMI displays the magnetic heading of your aircraft (slaved off the KCS 55A or KCS 305 Compass System). Either needle can be switched to display NAV or ADF data.

KR-87

Description
The KR 87 offers superb dependability in a compact, attractive TSO'd unit. It provides accurate bearing-to-station in the 200 kHz to 1799 kHz frequency range, complete with ADF, ANT and BFO tuning modes, plus audio output for station identification and monitoring AM broadcasts.

The KR 87's advanced "coherent detection" design rejects unwanted frequency noise and achieves much greater range while remaining less susceptible to engine noise, static and atmospheric interference. Its "flip-flop" frequency display allows you to switch between pre-selected standby and active frequencies with the touch of a button.

Both frequencies are stored in a non-volatile memory circuit, meaning you don't have to worry about battery power.

System priced as ADF with KI 228 Indicator system and KA 44B antenna.

KSN770

Description
Combining an IFR GPS navigator, integrated TAWS, weather radar display, a 16-watt digital VHF comm and VHF nav/ILS, Bendix/King's new KSN 770 multifunction display takes the place of up to four separate units. It features a large, high-resolution display and a sleek, ergonomic, intuitive design. The system also includes a comprehensive moving map and a fully certified 24-channel WAAS-LPV GPS navigator. But that's not the only technology separating the KSN 770 from less worthy systems.

The KSN 770 showcases a full VGA high resolution screen with a larger display area than on previous models. It offers an excellent view of the latest Jeppesen electronic charts and maps, complete with an own-aircraft position overlay.

Based on the graphical user interface found on advanced business jets, our GUI enables graphical flight planning with a cursor control device so simple to use, flight planning and enroute navigation have never been easier.

The KSN 770 includes a complete set of safety system display options that include on board weather radar, lightning, data link weather, TCAS and TAWS-B.

Features
* Higher-resolution, full VGA (640x480) LCD display
* Large 5.7" diagonal screen
* Graphical flight planning and integrated Cursor Control Device (CCD) consistent with technology of Primus Apex
* Selectable Options: Weather radar interface card, Charts & maps, Integrated EGPWS, 16W comm radio
* WAAS-LPV included in basic unit
* USB port for future high-speed data loads


KY196A

Description
The KY 196A VHF Transceiver is a 760-frequency Comm with simultaneous digital display of active and standby frequencies. It has push-button and remote-switch frequency flip flop. Nine pilot-programmable channels for frequency storage in nonvolatile memory may be remotely called up and cycled through.

MFRD_WeatherRadar

Our new MFRD combines the display of weather radar, traffic, terrain, navigation maps and other data into a single 6.24" x 4.82" space-saving multifunction instrument. Designed to work with various weather radar systems, traffic collision avoidance systems, enhanced ground proximity warning systems, flight management systems and navigation systems, the MFRD provides an upgrade path to additional systems while conserving valuable instrument panel space. With greater than 200 pixels per inch, the Honeywell MFRD is the highest resolution display of its size in the industry. This powerful new display will change the way you look at instruments.

KGP860

Description
In flight environments that demand an ever-increasing amount of attention, pilots need a higher level of situational awareness. The Bendix/King KGP 860 Enhanced Ground Proximity Warning System (EGPWS) incorporates much of the same terrain database technology found in our air transport EGPWS, while specifically protecting light turbine and piston aircraft from the threat of Controlled Flight Into Terrain (CFIT). Based on Honeywell's proven CFIT alerting algorithms, our EGPWS provides advanced alerting while virtually eliminating nuisance warnings.

Offering a unique combination of look-ahead algorithms, comprehensive terrain and obstacle databases and multi-level alerting capabilities, our GA-EGPWS systems provide enhanced situational awareness and the most advanced protection against Controlled Flight Into Terrain (CFIT).

CFIT is one of the leading causes of General Aviation fatalities. In addition to being TSO'd to C151 Class B TAWS requirements, the KGP 860 provides worldwide terrain database coverage, broken down into three regions - Americas, Pacific or Atlantic. The terrain display depicts terrain ahead of the aircraft, MSL altitude, Magnetic Track, Range in nm, and the elevation of the highest and lowest terrain features shown on the display.

The KGP 860 boasts all of the features of the KGP 560 with the addition of too low gear and flaps warnings, bank angle alerting, and multiple EFIS interface capabilities.

Terrain is represented by different colors, adjusting as your aircraft altitude changes.Terrain can be shown ranging from 2.5 nm to 320 nm and viewed at 360° or a 120° forward-looking view.

System is priced with the KGP 860 EGPWS, installation kit, and America, Pacific or Atlantic database card.